Join us at our Inaugural, First-of-it's-Kind, true-crime experience. Will your tip crack the case? Will you win the reward?
Saturday, February 26, 2022 Doors open at 5:30 p.m. Event starts at 6:00 p.m.
Host: National Forensic Science Technology Center @ FIU
8285 Bryan Dairy Road, #125, Largo, FL
$100/Ticket (Includes: crime fighting experience and dinner)
They will sell out fast. Do you have yours?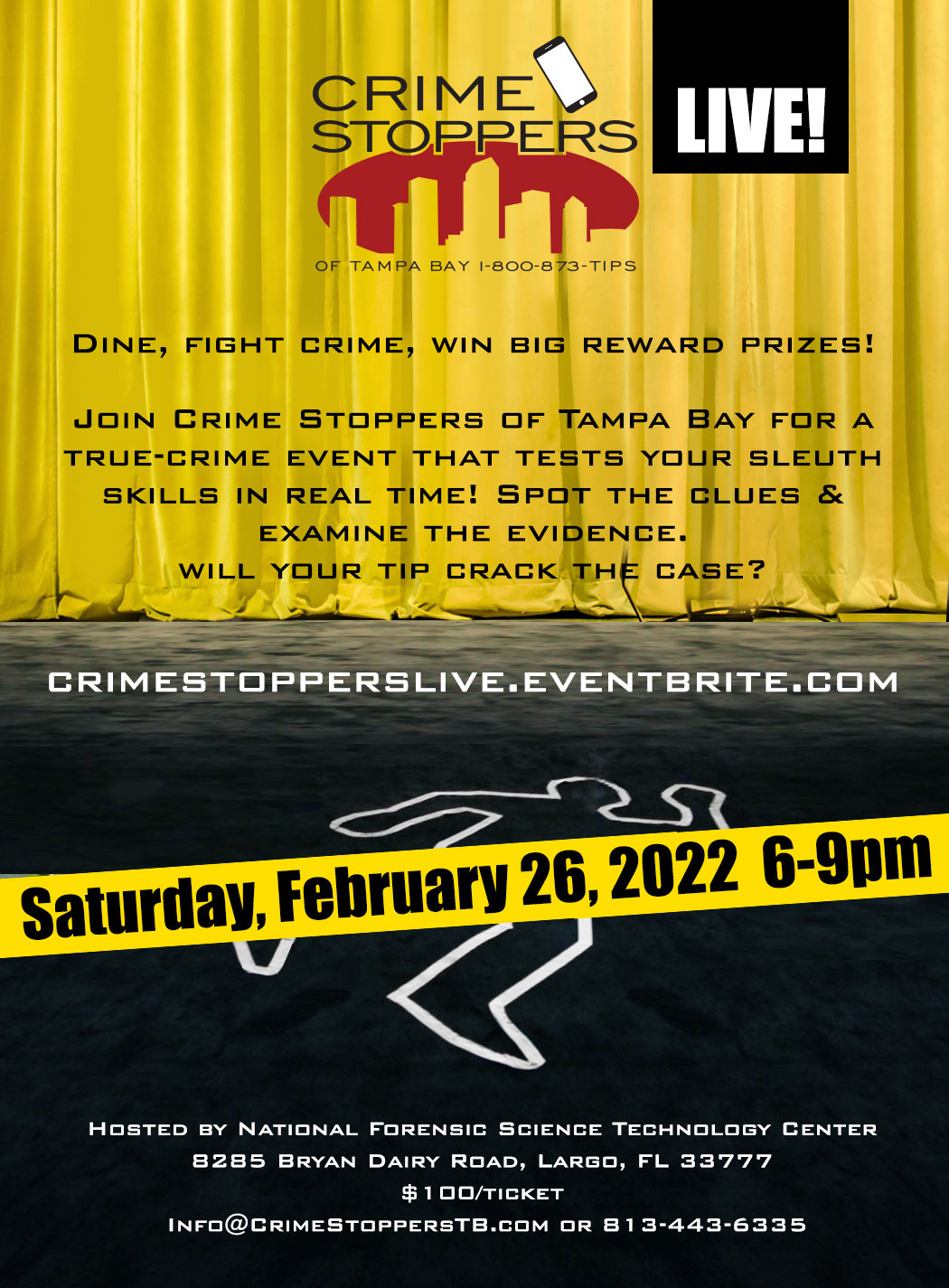 Support Your Local Crime Stoppers Program. Help us to make Hillsborough and Pasco Counties a safer place to live, work and raise a family.
Crime Stoppers of Tampa Bay is a community based non-profit, 501(c)(3) tax-exempt organization (#85-8012702626C-1) that has assisted law enforcement agencies for over 33 years. We are funded by private donations, fundraising and a grant from the Crime Stoppers Trust Fund. NO TAX DOLLARS are involved. 100% of the profit will benefit the organization.
FL REGISTRATION #CH8036 - "A COPY OF THE OFFICIAL REGISTRATION AND FINANCIAL INFORMAITON MAY BE OBTAINED FROM THE DIVISION OF CONSUMER SERVICES BY CALLING TOLL-FREE (800-435-7352)
WITHIN THE STATE. REGISTRATION DOES NOT IMPLY ENDORESEMENT, APPROVAL, OR RECOMMENDATION BY THE STATE."